DOORS AND THE KINGDOM OF GOD ~ PART 1
I've been thinking about doors … now either my mind has really wandered off into the truly mundane or the Holy Spirit is trying to illustrate some helpful truth to me.  Let's go with the latter thought here.  Let's start by looking at one definition of a door: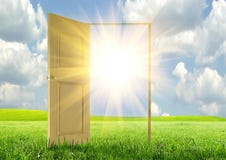 it is any means of access; the opening or closing of an entrance way.  So a door can let you in or keep you out of where you want or need to be.  Have you ever felt that you were stuck on the wrong side of a locked door? … no keys, no crowbar, … no chance of getting through.  It's very frustrating to feel this way and can just seem downright hopeless.  This in fact is what sin did to all of humanity – it locked us out of union and fellowship with God.
Now comes the great news and reality of redemption through Jesus' death, burial and resurrection.  In John 10:9 Jesus says …
"I am the door; if anyone enters through me, he will be saved, and will go in and out and find pasture"  [NASB]
In the next verse (John 10:10) Jesus reveals that He came that we might have life and have it more abundantly.  So through redemption we see that Jesus became our open door to enter back into union with Himself, back into eternal life.  The New Testament uses two powerful words to describe the reality we have come into – we are in Christ! 
To be in Christ is to be in a fixed, set and secure relationship.  Through spiritual new birth we are joined as one in Spirit with the Lord (1 Cor. 6:17).  We are not locked out on the wrong side of the door.  We are given full access into all that Jesus is.  Nothing of Himself has he held back – all love, all forgiveness, all grace, all power, … all that He is has He given us.  Jesus gave all of Himself not just to enhance our life, but so that He could Himself be our life by living His life in and through us.  It's all about Jesus, it's not all about me.  The more I realize and believe this, the more of Jesus I experience and the more He captures my heart and affections.
We are not in limbo … we are not in the hallway waiting for some door to open.  The door is already open, as believers we are in Christ – fully!  That's not just religious rhetoric, but the reality of the life of Christ we are given full access into.  We are not to live as if we are just wandering the hall waiting for a door to open, for an opportunity to come up so we can finally step into our "destiny."  Our destiny is, and was, and always will be Christ!  It's great news to know that we have already arrived!  May our eyes be opened, may our hearts be overwhelmed, may we live ever more fully in all that Jesus is to us … the door is open!
Now Jesus spoke in Matthew 16:19 about giving us the keys of the kingdom of heaven.  Notice He didn't say keys to the kingdom of heaven – these are not keys that unlock our access to get into the kingdom, but keys that release the kingdom in and through us.  Again, Jesus is our door into life "in Christ."  These keys will release through us the reality of "Christ in us" the hope of glory.
Since Jesus became our door that we might be "in Christ" may we through the Holy Spirit now become a door to release "Christ in us" – redemption is not only about the life we have entered into, but also about the living out of that life.
We will look at this further in next months Heart to Heart …
Love in Jesus,
David